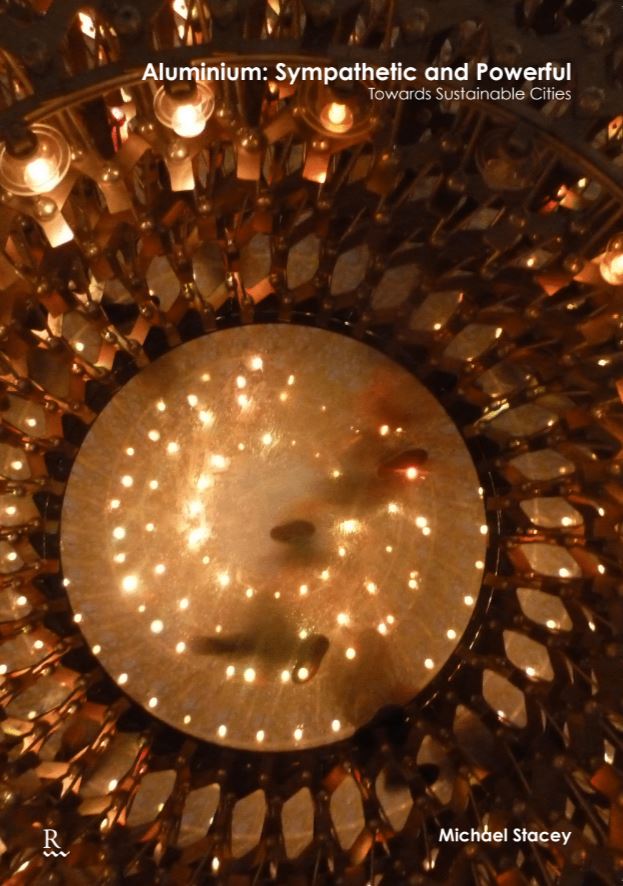 By Michael Stacey
Riverside Architectural Press
Open access PDF, 348pp, 2020
978-1-988366-36-4
Download
Aluminium: Sympathetic and Powerful
Aluminium: Sympathetic and Powerful focuses on the role of aluminium in the built environment and how as a material, which offers durability yet can be almost infinitely recycled, it can be considered as being sympathetic to human ecology and powerful in its many applications. This is delivered via one-to-one interviews with leading practitioners including Jim Eyre, Billie Faircloth, Jo Bacon, Tim Lucas and Alex de la Chevrotière, the latter two of whom are both structural engineers. A chapter is devoted to Kieran Timberlake's engagement with research and the fundamental components of an architectural practice.
Aluminium: Sympathetic and Powerful is the fifth book in the Towards Sustainable Cities series. It qualifies the in-use carbon benefits arising from the specification of aluminium in architecture and the built environment. The book explores whether the use of aluminium and its alloys can be considered sympathetic and powerful, via key contemporary case studies and historic examples. The importance of research in contemporary is also explored in discussion with key collaborators including KieranTimberlake. The book advocates maximising the potential of aluminium achieved through an active and collaborative dialogue, enabling specifiers to make informed and approach choices when designing architecture and engineering.
The major case studies include: The Hive designed by artist Wolfgang Buttress, Milan 2015, Royal Botanic Gardens, Kew, London 2016. The National Museum of African American History & Culture, on the Mall Washington DC, completed in Fall of 2016, the design of which was led by architect David Adjaye. In 2020 he received the RIBA Gold Medal. The Weston Library original design by Giles Gilbert Scott, as the New Bodleian Library, on completion in 1940 this book repository was used by British Naval Intelligence.  This library features the second oldest extant anodised aluminium windows in the world. The first use, also designed by Giles Gilbert Scott, are still enclosing Cambridge University Library, which was completed in 1934. As part of the Towards Sustainable Cities Research, the author led a team who tested the anodising on the windows of the New Bodleian Library. This library reopened to the public in March 2015 following a major reconfiguration designed by a team led by WilknsonEyre. It was renamed the Weston Library in honour of a major donor the Garfield Weston Foundation. The ground floor of the library houses public functions including exhibitions, bookshop and café and is fully accessible by the people of Oxford, which is now rare amongst Oxford University buildings. As part of this refurbishment the original anodised aluminium windows were only cleaned and reglazed. By zoning the environmental design, WilknsonEyre skilfully avoided the need for secondary glazing.
Aluminium: Sympathetic and Powerful also serves as a summary and guide to four earlier books in in the TSC series: Aluminium and Durability (2015), Aluminium: Recyclable and Recycling, (2015), Aluminium and Life Cycle Thinking with KieranTimberlake (2015) and Aluminium: Flexible and Light (2016).